By Mikael Blaisdell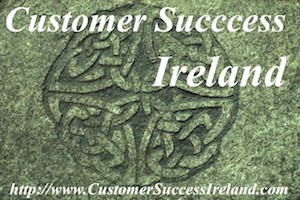 The second Customer Success event in Ireland will be held on 1 November 2016 in Dublin.  This event is targeted at senior and aspiring Customer Success Leaders, Senior Sales Engineers and Customer Retention experts.  The number of participants will be held to 30 to facilitate strong audience interaction and networking.

Very little published material exists on how Customer Success Leaders are justifying the cost of their CS function. Is this because CS is still finding its correct position in the organization? Is it because some CS functions don't do the "commercials" and so causality to financial contribution is not easily measured?
Three local Customer Success executives have put together a morning event on the 1st November for CS Leaders to focus on the topic of Measuring and Proving the Internal Value of Customer Success.
The program will include a couple of talks from both local and international Customer Success experts such as Dan Steinman from Gainsight. The event should also serve as an excellent networking forum for CS Leaders.
Agenda:
09:00-09:30         Registration, Networking and Coffee
09-:45-10:00       How to keep your role as VP Customer Success:  Peter Lyon, Chief Customer Officer, eSpatial
10:00-10:30         The Value of Customer Success to SaaS companies:  Dan Steinman, Chief Evangelist, Gainsight
10:30-11:00         Measuring the Value of Customer Success
11:00-11:15         Coffee
11:15-12:00         Roundtable discussion with facilitators:  Peter Lyon, Dan Steinman, Evin Conway
12:00-12:30         Round Table feedback
12:30-13:00         Q&A – Panel and open floor
13:00 – 14:00       Lunch and Networking
Registration
To register for this event, please click here: