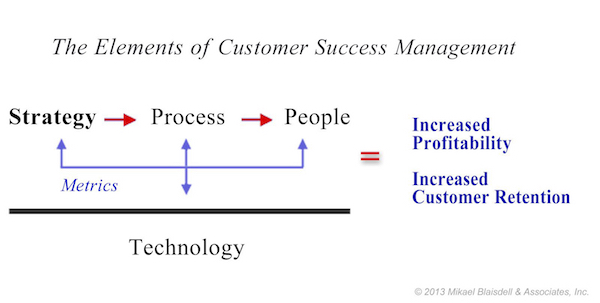 Customer SuccessCon is an extended conversation about the present and the future of the profession of Customer Success.  The program keynote presentations will provide a comprehensive view of the current state of the profession and a provocative look at what it could become.  The Case Studies and Best Practices sessions zero in on specific techniques and experiences to use the present to drive towards the greater capabilities and increased profitability of the future.   As the above diagram indicates, the starting point is Strategy, which then needs to determine the Process of your Customer Success team and its People — where the team is located in the overall corporate organization, who you hire and how you train them for the role.  The group's Technology suite and its metrics keep the whole structure aligned and producing the ultimate goals.
Keynote:  The Now and Future of Customer Success

The ongoing research of the Customer Success Standards Initiative probes the extent of what CS teams are currently doing worldwide, offering insights and innovations that could accelerate the progress of your company's CS program.  Where is the Point of Engagement for a Customer Success team?  What specific authorities do CS execs hold, and how are they used?  What tools should every CS team have in place? 

Case Studies:
Presented by seasoned Customer Success executive leaders, the Case Study sessions focus on what is being done in companies like yours, how it's working, and how it can be made even better.  The sessions are "unplugged" — no slides — and set up for small audiences and maximum interactivity.
Keynote:  A Success Plan for Customer Success
What could/should the Customer Success profession become?  Why?  This provocative peek into a possible future is not something that will ever be handed to you on a platter, it will take careful building and courage in order to make it a reality.  Are you ready for the challenge?

Best Practices:
In these presentations, some of the most experienced and visionary thought leaders in the Customer Success Community will tell you how they view key aspects of the profession.  These breakout sessions are also "unplugged" and are designed for optimum levels of participation.
And Beyond…
When the Customer SuccessCon presentations and working sessions are done for the day, the conversation doesn't stop.  Join the more than 19,000 professionals worldwide in The Customer Success Forum on LinkedIn to continue the discussion.  Continue to meet in local gatherings of the Customer Success Association to further the learning.  Get involved with the Customer Success Standards Initiative to produce a working foundation for companies large and small to create and optimize their own teams.