The very first Customer SuccessCon conference took place in Boston, MA on December 5th, 2013.  The second was in Oakland, CA in early 2014 — at the Marriott Convention Center, later the site of other Customer Success events.  Since then, Customer SuccessCon events have continued in five cities: Oakland, CA, London, UK, Seattle, WA, Denver, CO, and Boston, MA.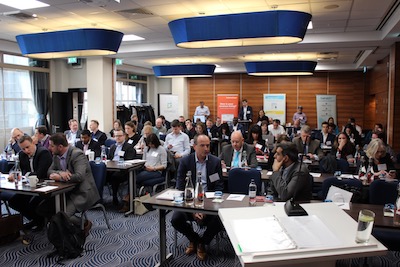 From the beginning, Customer SuccessCon has been designed for one purpose: to build connections between executive leaders of the profession through conversations about core aspects of Customer Success group management.  The audience is CS executives — VP's, Directors, Heads of CS and Managers of Customer Success (rather than customer-facing CSM's).  We also typically have some C-level types (CEO/COO/CCO's) and the occasional VC/Investor partners as well.  There are a maximum of 100 attendees for each event.
While various vendors of customer success technologies have sponsored Customer SuccessCon events, the conference, as is the Customer Success Association itself, is very carefully vendor-neutral.  The program sessions do not include any type of product demos or overt selling.  The speakers are senior members of the worldwide Customer Success community who are known for their demonstrated expertise.  Each "unplugged" session is both a presentation and a highly interactive opportunity to leverage the expertise of both the leader and the other attendees for your team/company challenges.
The program of Customer SuccessCon, however, is only the start of the value of the events.  Afterward, both participants and speakers continue the conversations in the largest and most diverse gathering of Customer Success professionals of all — The Customer Success Forum on LinkedIn, where more than 26,000 members worldwide discuss all things CS all the time.
Past Customer SuccessCon Agendas
2018
(Read the Reviews:  Review-1)
2017
2016
2015