I recently shared an overview of how customer success has a quantifiable impact on revenue and someone quickly snapped, "thought this was a given, especially in the subscription model."
Despite many cases where companies are growing as a result of effective customer success initiatives, companies continue to refer to Customer Success (CS) as an afterthought, a department or service they have to have – a 'cost center.' These ideas dismiss a companywide approach to business where the customer experience is at the center of what the company is building and how the company makes decisions. By shifting the mindset to a proactive approach, where CSMs are proactively leading customers to realize the impact of a platform or service, your organization can position customer success as a profit center that is aligned across the entire company, not a drain on the bottom line.
Before the Internet, Sales was viewed as a function where you are always closing a new customer and typically 70% of the lifetime value of a customer was realized at the top of the funnel when the 'opportunity is closed.' B2B sales were based on the promise of impact, as deployments would take years. Thus companies promised value. Fast-forward to the 1990s, with the birth of software-as-a-service. The funnel is now flipped on its side. Today customers expect an immediate impact, changing the demands they place on service. Moreover, they will continue to renew their licenses, introduce you to other teams, and act as a voice for your company.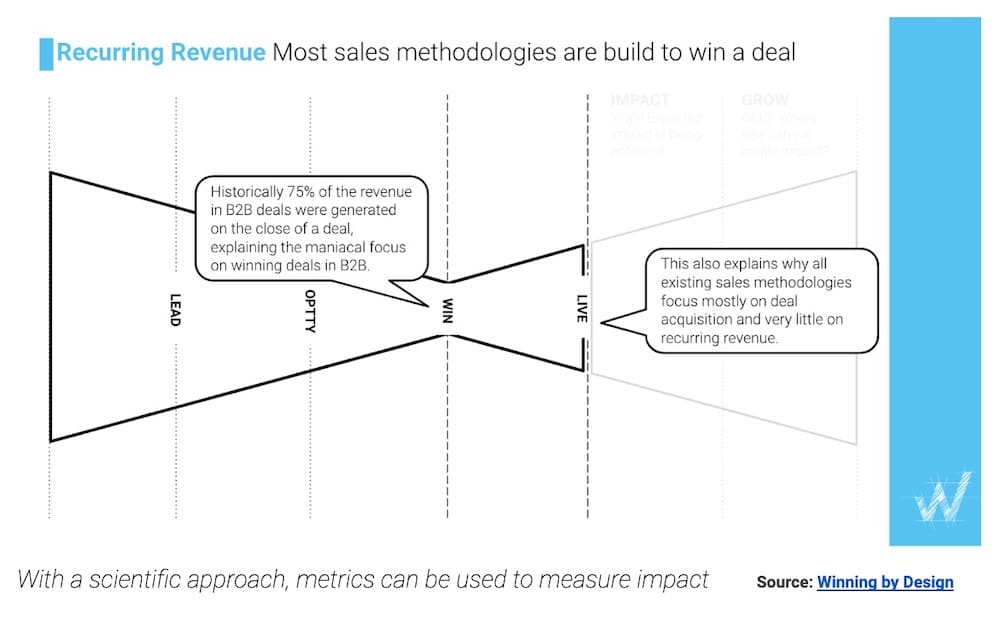 Three Examples of customer growth from the customer experience:
1. Adobe
In 2013, when Adobe moved away from software packages that a customer would purchase one time for $2500 to a monthly $30 subscription, there were two possible outcomes. Based on the chart below, you can guess what happened. With careful planning and proactive outreach, current customers not only accepted the change in how they purchased Adobe products but understood the value of having continuous updates and a new customer experience: They now not only had online support, a community, and a human element to guide them through best practices. User guides and one time purchases became a thing of the past.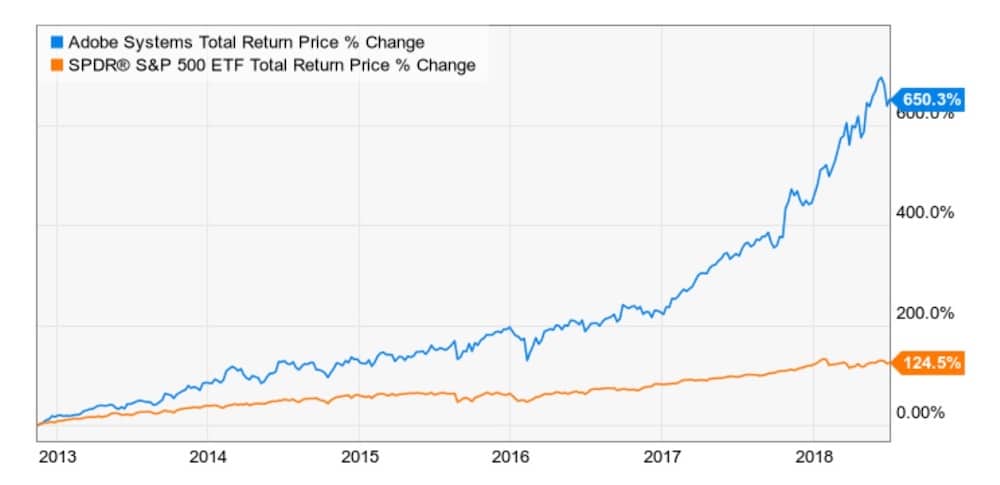 2. Ring Central
At SaaStr 2019, Vlad Shmunis, the founder, Chairman, and CEO of Ring Central reported that 40% of their new bookings are from current customers. That's $400,000,000 of their nearly $1b in annual revenue.
How are these companies continuing to expand their profits by not only landing new customers but also growing current ones? By recognizing that after an opportunity is closed, the customer relationship is just beginning. Customer onboarding to get a customer live is no longer good enough. The experience has to be one where agreed on quantifiable metrics are achieved and revenue conversations are part of scheduled meetings.
3. Amazon
This example is perhaps the best one. Amazon is now worth $900b, and it isn't because customers come to the website to purchase a product one time. It's amazon prime membership experience, that two-day delivery option, and the seamless experience that keeps customers coming back again and again for purchase more. The revenue growth loop that Amazon has created is slightly different than a traditional B2B sales model in that it is more transactional. However, that ease of use after the first purchase can still be achieved for B2B companies. Slack and Zoom quickly come to mind when I think of products that require minimal onboarding to achieve high impact quickly and keep customers coming back for more licenses.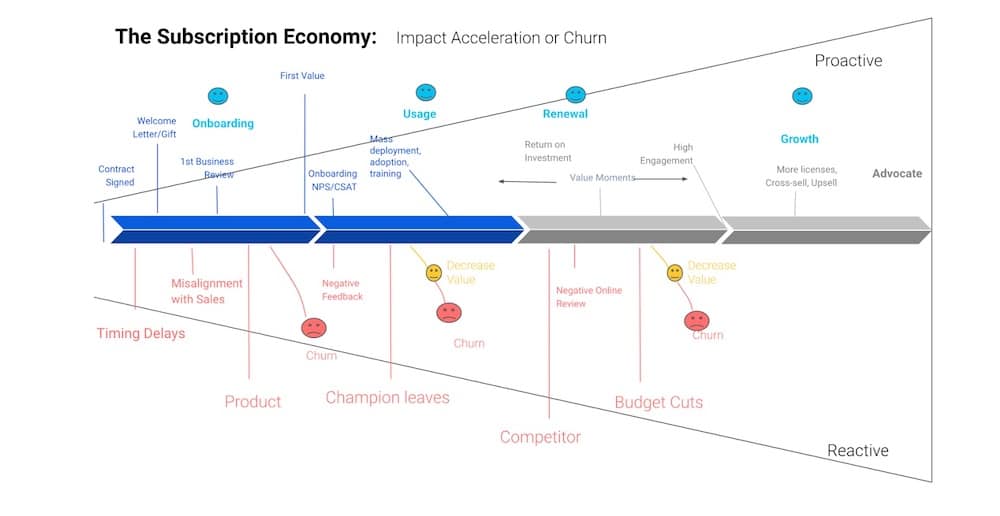 Here are five ways to shift the Customer Success Mindset from 'Cost to Profit Center'
Renewals:typically, a contract will include a 1-5% increase yearly to keep up with rising costs to maintain platforms. They may sign 1-3 year agreements, and the longer they stay, the faster you can recuperate the original customer acquisition cost and start generating a net profit.
Reselling: you may be caught in a scenario where new decision makers join one of your customer teams. That person may not be aware of your product value, and as a result, you may have to educate the buyer on why they should continue to select your company as a product over a product they may have more experience with or brand loyalty.
Upsells: Companies traditionally focus on upselling a customer through more licenses and professional services with the mindset of 'land and expand.' The goal for sales is to get the customer to commit to your product, perhaps starting with a low ARR and then handing over the customer to a CSM to spend the first year on driving impact and finding opportunities to upsell on additional products and services. This approach has been working for some companies, but it isn't good enough to see exponential growth. Companies need to take upsells one step further.
Cross-Sells: These opportunities are where real customer growth can occur. If you have your product implemented in one department in a company, why not drive adoption, ensuring impact for renewal and upsell purposes but also to better understand how your product and services can help your customers across all departments? Often, companies neglect to ask their champions, "where else do you think our product can help your company achieve their goals?" If your product and relationships have a measurable impact, the champion will want to bring you into new opportunities. It will make him/her look like a hero and help drive companywide performance.
Advocacy: This is another missed opportunity at many companies. An advocate program through customer communities, referral and reference programs, and moving to another company and repurchasing your product. Revenue generated from advocacy activities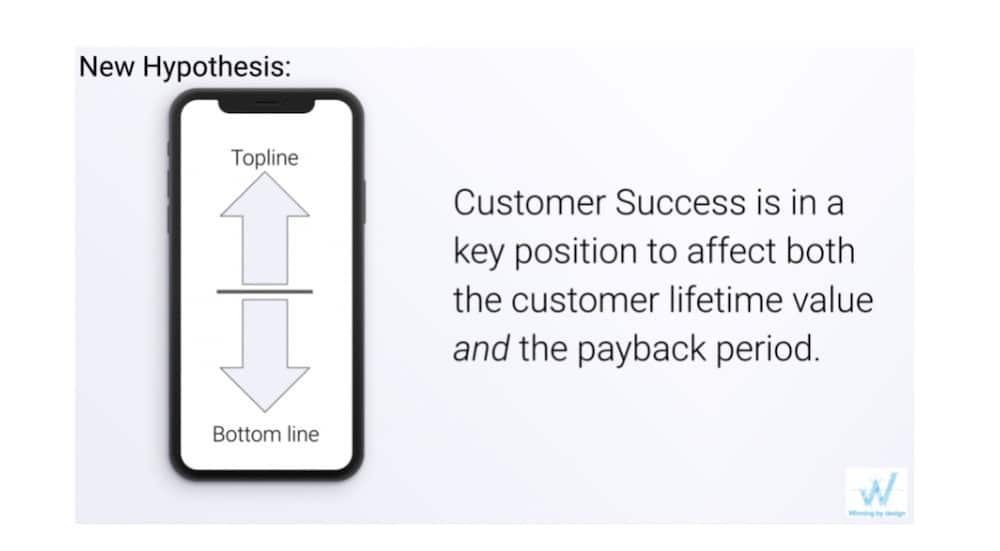 Putting it all together:Companies who invest in understanding whythe customer purchases a product and invests in creating value moments from onboarding through the renewal will create a revenue engine.
If you don't have leaders who put the customer experience at the center of all events in the customer journey, then your company's lack of growth is not your customer success manager's fault. Take a step back. Look at the whole customer journey and start with critical moments that will either lead to customer churn or customer growth. Build them out and have impact outcome opportunities for each moment. This exercise will take a few tries, interviews, and research, but it will pay off long term and grow and change over time as your customer needs change and your product is enhanced.  By making your customer experience a focus of your company across all departments, customer success will impact the customer lifetime value (LTV) and the payback period. It's no wonder that customer and customer experience are growing as professions.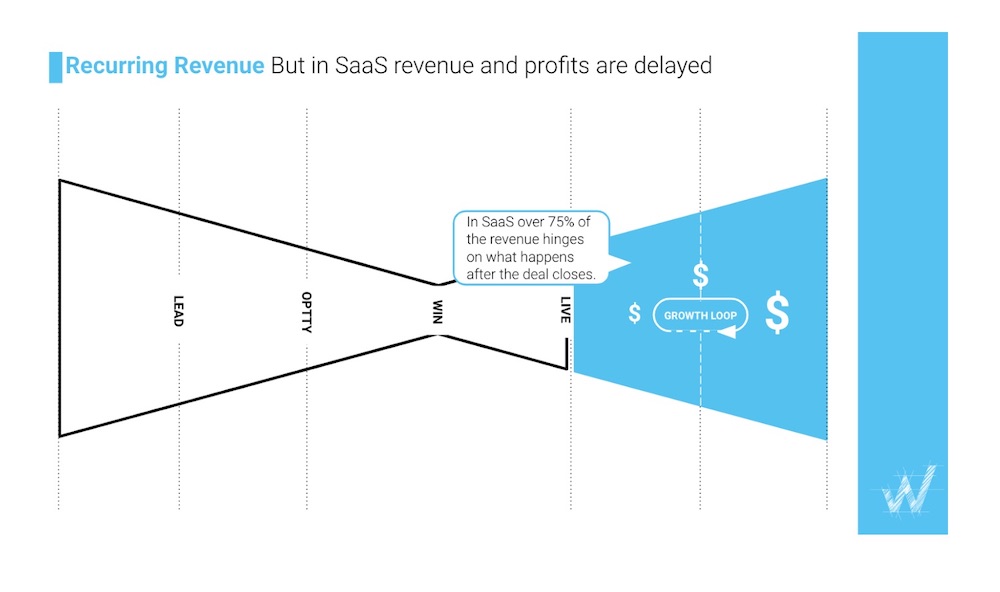 Emilia D'Anzica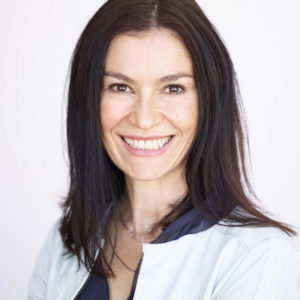 Emilia D'Anzica, MBA, PMP is the founder and CEO of Growth Molecules, a consulting firm focused on developing customer-centric programs that transform businesses & individuals. Services include advising companies on customer growth, building customer success playbooks and journeys, and organizational design.  She is an executive coach, a frequent writer, and educator on scaling saas teams and growing customer accounts. Emilia holds an MBA from St. Mary's College of California, and is based in the Bay Area.