By: Ellie Wu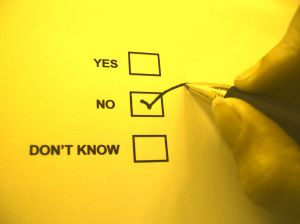 For any aspirations and goals, your relationship with "No" will impact your outcomes. A few of my favorite examples of leaders now celebrated for their success who began with hearing No:
The list goes on, and the paths are drastically different, yet they have a common thread of harnessing the power of "No." So, how does this translate to the work we do with customers?  Whether you are in Success, Sales, or Leadership, an enduring partnership with our customers (internal & external), requires our proficiency in saying, hearing, and sensing "No."
Saying No
Starting w/ No – Whenever there is an ask, resist the urge to be the "yes" person and start with "no" instead. Simply because you can do something, doesn't mean you should. So, unless you are 100% certain it is the best use of your time/resources, say "no" or take the time to think it over. By default, agreeing to new responsibilities means saying "no" to new possibilities. Progress in your most impactful goals requires being thoughtful in your commitments and consistent in quality follow through.
Formula:

Acknowledge the trust/opportunity in any ask
Understand more about the driving force behind the ask
Provide some context for declining
Offer alternative solutions (timeline, delegation, etc.)

Example: If a customer asks you to set up a recurring weekly call just to touch base with no specific goals or agenda.
"Thank you for wanting to do that. Can you share more about what you would like to get out of those calls? <LISTEN>
"Yes, we do continue to roll out new features for the product, and I'm glad to hear you are finding so many new ways to evolve how you're using our platform. Since we have our larger releases on a quarterly basis, I'd suggest a solution review in line with that to highlight suggestions that could be most beneficial for your teams. Another great supplement to this would be signing up to receive release updates as well."
Hearing No
If a distinction between success and failure is persistence, then embracing the discomfort of rejection is necessary to make progress towards your objective. "No" is not the end. "No" is not always final. "No" is not always about you. Instead, it is a signal to audit your current path and pivot as needed and a moment to gain valuable insights.
Formula

Pause
Thank the person for being direct
<Take the pulse of their energy following this>
If you sense they are still open to continuing the discussion, ask for feedback or context for the "No." If not, do your post-mortem with someone for an alternative perspective.

Example: Your request for additional resources has been denied
"Thank you for reviewing the request, and I appreciate the time to discuss the decision. Based on the results from last year, the ask is made with the goal of supporting the projected growth we're all looking forward to closing this year. Since we haven't adjusted the revenue goals, I'd be curious to learn more about the strategies we're prioritizing. <LISTEN for clues and opportunities to dive a bit deeper for context> Yes, I can see why that would have led us down the path to where we are today. Thank you \for the time and feedback. I'll review this with our teams and will gladly share what comes of your feedback to start planning for next year. Should we find time next week to review the findings?"
Sensing No
"You've got to know when to hold 'em. Know when to fold 'em. Know when to walk away. And know when to run." – Kenny Rogers
Most people do not like conflict and avoid having to say "no." Improving your ability to sense impending rejection and to navigate this, hones critical skills to save time and resources. Below are some of the behaviors I look for and how to decide what to do next.
Formula:

Notice the flags:

Goal-posts keep moving
Unresponsive
Non-committal

Check your ego:

Why do you want to continue?
Can it only happen down this current path precisely as it is or are there benefits in exploring change?
What do your trusted advisors have to say?

Pivot towards potential:

How firmly do you believe that you have a better solution to a known problem?
Have you left your comfort zone?
Are you willing to invest more in preparation and patience?

Example: You've achieved a milestone w/ the customer yet they are still not ready to commit.
"I am sensing some hesitation and curious to learn more about that so we can move towards (collective goal). What is giving you pause? <LISTEN & peel back 1-2 layers by asking why> What else? <LISTEN & ITERATE until they say there is no more>."  Reflect on the last two answers you received as they are likely to be the real reasons against the formula to check for flags, ego, and potential.
After studying the paths of people who are acclaimed for their accomplishments, I was drawn towards the failures that rarely get the same attention. Each success-story credits their failures, fortitude, and focus as the tipping points for their results. With every dream/goal being on the other side of some form of "no," I hope these tips will entice you to reexamine your relationship with saying, hearing, and sensing "no" – harness the power and choose to take action over fear.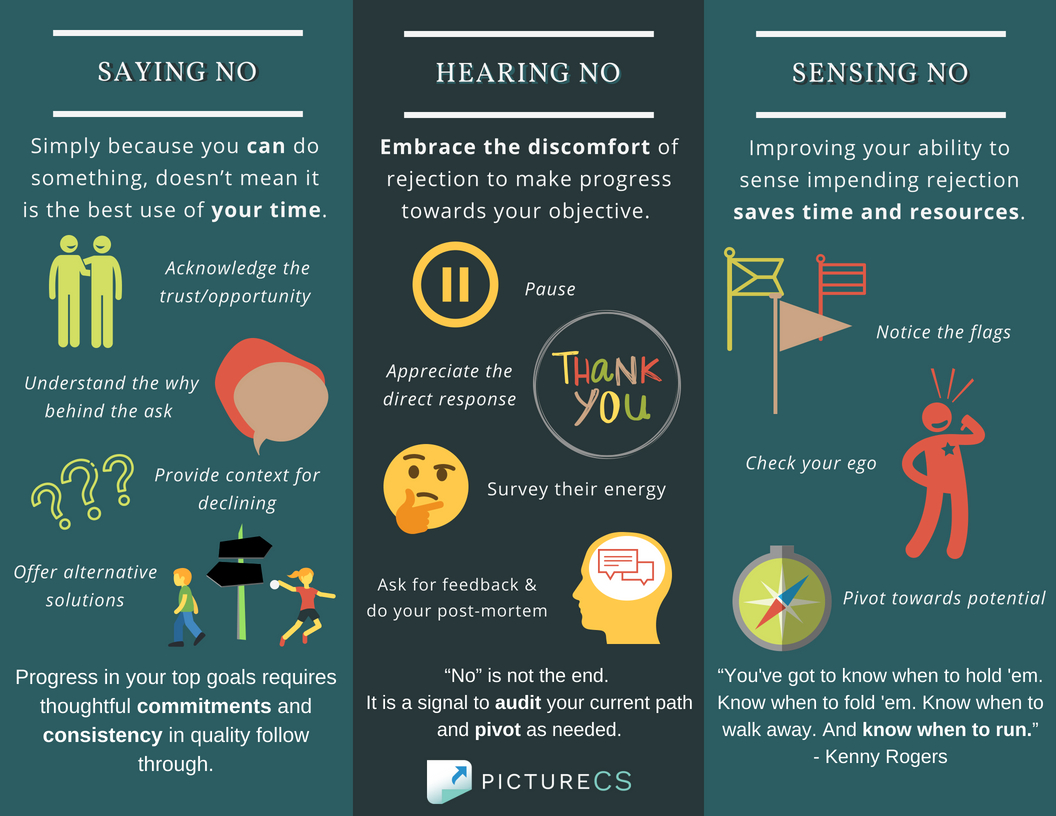 .
In her role as Senior Director, Customer Success, Ellie leads Customer Success strategy for the Global Services Operations team at SAP Concur. Building on her 10+ years of experience growing million-dollar customer accounts & scaling teams, Ellie is an industry-recognized thought leader for her work across hyper-growth companies and multinational organizations. Determined to empower more organizations and groups to unleash the potential of Customer Success, she also founded PictureCS which serves as a best-practices CliffNotes for Customer Success.