Customer Success Books
Titles are listed by date of publication.  Please support the work of the Customer Success Association by clicking on the links to buy the books and materials as we receive a small commission on such sales.  This does not increase the price you pay for these items.
30 Day Leadership Playbook: Your Guide To Becoming The Leader You Have Always Wanted To Be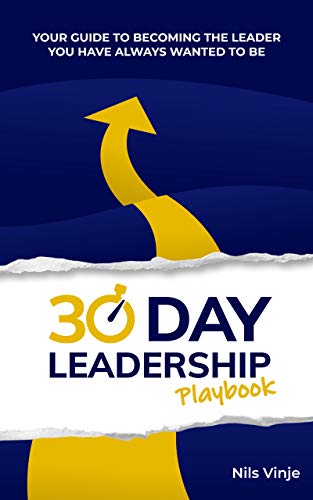 Nils Vinje, Glide Consulting and 30 Day Leadership
Build Your Leadership — Fast!
Are you tired of feeling like you have to figure everything out for yourself?  Are you tired of feeling like you are being set up to fail?  Are you tired of feeling like an impostor who could be outed at any time as a fraud?  Are you looking for a playbook that will empower you to become the leader you have always wanted to be?
In this conversational and action-oriented playbook, Nils Vinje gives you the strategies and tactics to build your leadership — fast.
In 30 Day Leadership Playbook, you will:
Discover the new rules of leadership (there are 5 of them by the way)…
Find out how claiming your strengths as a leader can fast-track your next promotion…
How to improve productivity and build confidence in anyone…
Discover the single most important contract that almost every leader gets wrong…
Find out how to delegate with ease even if you feel like you are drowning in a sea of responsibilities…
30 Day Leadership Playbook equips readers with the strategies and tactics to become the leader they have always wanted to be.  Are you going to continue to do what you have always done? Or are you ready for a playbook that will change the future of your leadership career?
.
---
.
The Future of Customer Success – A Catalyst e-Book
In February 2020 (carefully spacing people 6+ feet apart!), Catalyst Software hosted over 50 Customer Success leaders to discuss Customer Success: The Next 10 Years.  Topics that arose from the discussions include:
Managing Customers at scale
Collaborating with different company functions
Automation
Presenting to boards and leadership
Achieving Trusted Advisor status
.
Table of Contents
Chapter 1: The Last Ten Years
Chapter 2: Predictions
Chapter 3: The Future of Metrics
Chapter 4: Getting CS to the Center of Your Company
Chapter 5:  Play Time
Chapter 6:  Automation
Chapter 7:  The Future of Customer Success
To Download the free e-Book, click here
Note:  You must be logged in as at least an Associate/free member of the CSA to access this resource.
---
.
What Color Is Your Parachute? 2020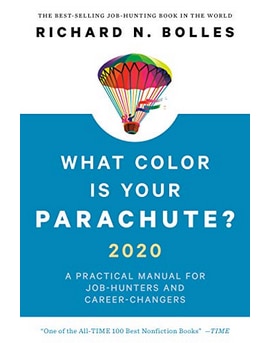 Richard Bolles
With so many Customer Success professionals suddenly laid off, and so many really wanting to get into the field, there is a huge need for a book that can walk you through the process of identifying your strengths and gaps, as well as how to navigate the job search.  This book, updated yearly, as been relied upon for over 40 years.  I've used it myself earlier in my career, and recommend it strongly.  Mikael Blaisdell
With more than 10 million copies sold in 28 countries, the world's most popular job-search book is updated for 2020, tailoring Richard Bolles's long-trusted guidance with up-to-the-minute information and advice for today's job-hunters and career-changers.
In today's challenging job-market, the time-tested advice of What Color Is Your Parachute? is needed more than ever.  Recent grads facing a shifting economic landscape, workers laid off mid-career, and people searching for an inspiring work-life change all look to career guru Richard N. Bolles for support, encouragement, and advice on which job-hunt strategies work–and which don't. This revised edition combines classic elements like the famed Flower Exercise with updated tips on social media and search tactics. Bolles demystifies the entire job-search process, from writing resumes to interviewing to networking, expertly guiding job-hunters toward their dream job.
To Purchase:
.
---
The Customer Success Economy: Why Every Aspect of Your Business Model Needs A Paradigm Shift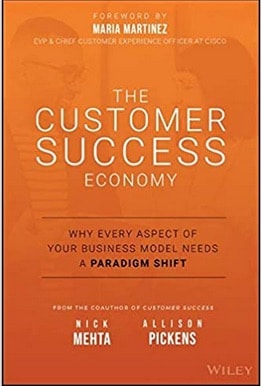 Nick Mehta, Allison Pickens.  John Wiley & Sons – May 2020.  Hardcover
If leaders aren't integrating their digital offerings into a philosophy of Customer Success, they will be defeated in the next decade, because technical excellence and other traditional competitive advantages are becoming too easy to imitate.  The Customer Success Economy offers examples and specifics of how companies can transform. It addresses the pains of transforming organizational charts, leadership roles, responsibilities, and strategies so the whole company works together in total service to the customer.
Shows leaders how their digital implementations will make them more Amazon-like
Helps you deliver recurring revenue
Shows you how to embrace customer retention
Demonstrates the importance of "churning" less
Get that competitive advantage in the most relevant and important arena today―making and cultivating happy customers.
---
.
Practical Customer Success Management: A Best Practice Framework for Rapid Generation of Customer Success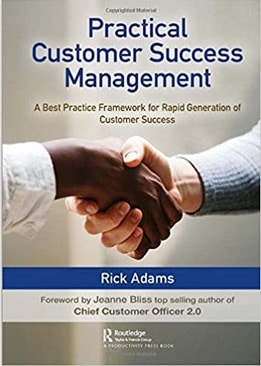 Rick Adams.  Routledge / Productivity Press 2020.  In Hardcover / Kindle editions
Practical Customer Success Management is a complete "handbook for CSMs", written by a customer success expert who has coached and trained many hundreds of customer success managers across the globe. The book is aimed at increasing both productivity and consistency of quality of output for customer success managers of all levels, from relative newcomers through to seasoned professionals. The book is highly practical in nature and is packed full of good humored but very direct advice and assistance for dealing with exactly the types of real world situations CSMs face every day.
Practical Customer Success Management provides a simple-to-follow, best practice framework that explains what the core customer success management steps are at each stage of the customer journey to business outcome success and in what circumstances to apply those steps. It describes and explains which situations each step applies to and provides recommendations for activities or tasks that the CSM can perform to complete each step, together with detailed explanations and step-by-step guidance for successfully completing each activity or task.
---
.
The Customer Success Professional's Handbook:  How to Thrive in One of the World's Fastest Growing Careers – While Driving Growth for Your Company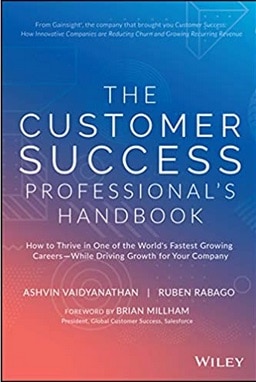 Ashvin Vaidyanathan and Ruben Robago.  John Wiley & Sons 2020.  In Hardcover and Kindle editions.
The definitive "Customer Success Manager How-To-Guide" for the CSM profession from Gainsight, who brought you the market-leading Customer Success
The Customer Success Manager has become a critical asset to organizations across the business landscape. As the subscription model has spread from the cloud and SaaS to more sectors of the economy, that pivotal role will only grow in importance. That's because if you want to compete and thrive in this new environment, you need to put the customer at the center of your strategy. You need to recognize you're no longer selling just a product. You're selling an outcome. Customer Success Managers (CSM) are committed to capturing and delivering those outcomes by listening to their customers, understanding their needs, and adapting products and services to drive success.
The Customer Success Professional's Handbookis the definitive reference book for CSMs and similar roles in the field. This practical manual fills a significant gap in professional customer success literature, providing the knowledge every CSM needs to succeed―from the practitioner level all the way to senior leadership. The authors―acknowledged experts in building, training, and managing Customer Success teams―offer real-world guidance and practical advice for aspiring and experienced CSMs alike. The handbook is written by practioners for practioners. An indispensable resource for front-line Customer Success Managers, this much-needed book:
Demonstrates how to build, implement, and manage a Customer Success team
Helps new CSMs develop their skills and proficiency to be more employable and grow in their careers
Provides clear guidance for managers on how to hire a stellar CSM
Presents practical tactics needed to drive revenue growth during renewal, expansion, and customer advocacy opportunities
Explains proven methods and strategies for mentoring CSMs throughout their careers
Offers valuable insights from Gainsight, the Customer Success Company, and the broader customer success community with more than a dozen of the industry's most respected leaders contributing their perspectives
Currently, with over 70,000 open positions, Customer Success Manager in one of the fastest-growing jobs in the world. The Customer Success Professional's Handbook: How to Thrive in One of the World's Fastest Growing Careers―While Driving Growth For Your Company will prove to be your go-to manual throughout every stage of your CSM career.
---
.
The Customer Success Pioneer: The First 12 Months of Your Journey Into Growth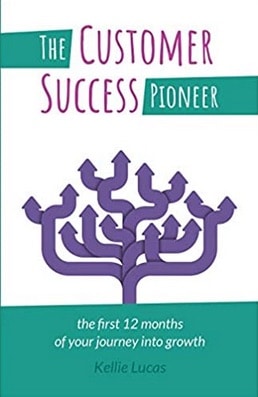 Kellie Lucas.  In Paperback and eBook editions.  2020
***2020 BUSINESS BOOK AWARDS FINALIST!***
Are you a Customer Success Executive or making your way up the Customer Success ladder?
Do you want to transform churn into maximum recurring revenue and growth?
Are you looking for a clear route to an established framework?
Are you determined to be proactive, rather than constantly firefighting, with your customers?
Is your company invested in or implementing a customer-focused philosophy?
If you answered yes to any of these questions, this book is for you!
Customer Success is an emerging discipline for professionals pioneering revenue growth through customer relationships, outcomes, trust, loyalty, retention and referrals.  The Customer Success Pioneer is a practical handbook for creating a best-in-practice Customer Success function from the ground up. It will help you ensure that your existing portfolio of customers become successful partners – delighted, committed and renewing – by putting in place processes that will work across your portfolio and into the future. This book will help you find the essential frameworks to maximise customer retention, recurring revenue and growth, build a productive and balanced team and excel as a Customer Success professional
---
.
Customer Success For A Whole New World:  Perspectives From CS Leaders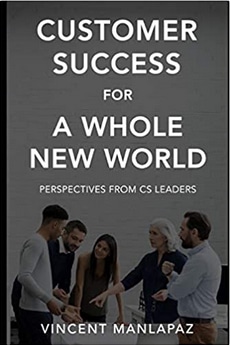 Vincent Manlapaz – 2019 In Paperback and Kindle editions
In today's marketplace, if you don't focus on helping your customers realize the value of WHY they bought your product, then why would they ever stick around and become loyal customers?
After reading this book, you'll be able to create a world-class customer winning strategy!
Additionally, you will learn:
Actionable ideas that can transform your organizational culture to the kind of company that customers obsess over!
An essential blueprint for winning, retaining, and delighting your customers.
Strategic advice to help you understand where you are now, what to do, and how to improve your existing Customer Success strategy.
New metrics and measurable outcomes to achieve consistent growth.
How to create a world-class voice of the customer program.
New approaches for developing an ongoing Sales and Customer Success conversation.
.
---
.
The Startup's Guide to Customer Success: How to Champion the Customer at Your Company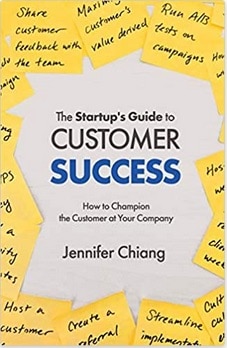 Jennifer Chiang.  New Degree Press 2019 – In Paperback and Kindle editions
Are you looking to start or grow a customer success team? Customer success is no longer just for companies with large teams and resources. It's a company mindset that can unlock the biggest opportunities in business. Customer success can help streamline experiences, grow product engagement and loyalty, and more importantly — retain business.
In The Startup's Guide to Customer Success, Jennifer Chiang presents a guide on how to plan, execute, and grow your own customer success team and the actionable steps that you can take to champion the customer at your company.
Learn insights such as:
The four attributes Shreesha Ramdas, CEO and Co-Founder of Strikedeck, says are must-haves when hiring your first customer success team
How Jamey Jeff, Managing Director of Customer Success Solutions at Coastal Cloud, reevaluated QBRs to derive more value for his customers with less work
How Maranda Dziekonski, VP of Customer Success at Pared, manages her time wisely to not only get everything done, but fight fires and plan ahead
This book is for everyone from new customer success leaders, CEOs and VPs who want their company to be more customer-centric, to start-ups who are starting their own customer success teams.
---
.
Customer Education: Why Smart Companies Profit By Making Customers Smarter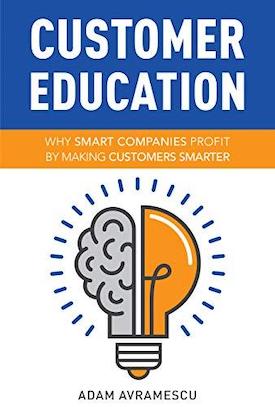 Adam Avramescu.  January 2019.  In paperback and Kindle editions.
Today's software companies can't afford to be passive with their customers. As software moves to the web and becomes more consumerized, software companies can only grow if their current customers renew and grow over time. Otherwise those customers will leave, creating a "leaky bucket" of revenue.
So what are smart, innovative companies doing before they end up with severe churn problems? Forward-thinking companies invest in Customer Education early as a way to drive customer growth and maximize lifetime value in a scalable way. Over time, this function has the potential to differentiate a company in the market.
Consider this book a survival guide to investing in a Customer Education function, including:
How to drive a Customer Education strategy across your customer lifecycle
Tips for creating killer content that will actually lead to customer performance
What tools to implement as part of your technology stack
Measurement strategies for improving your content and showing ROI
---
.
The Outcome Generation: How a New Generation of Technology Vendors Thrives Through True Customer Success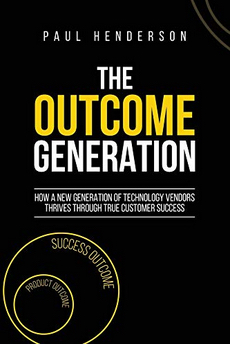 Paul Henderson.  Red Raven Books; The Copy Collective 2018.  In Kindle, Paperback and Audio editions
Stand aside, we're coming through!
That's the cry of a new generation of technology vendors. They have a new approach to enabling success for their customers. And they're thriving as a result.
These vendors all have subscription pricing at the heart of their business. Each has learned that if customers don't feel they've had success, recurring revenue doesn't grow and may even decline.
What makes them different? They have absolute clarity about what the customer considers success to be. And they've built their business around enabling that success. They know it's the outcomes for the customer that count. They're all members of the Outcome Generation.
This book shows how to join the Outcome Generation. You'll learn how to leverage true customer success at every stage of the customer lifecycle. For existing customers, you'll learn how to engage customer executives at the start of the buying cycle–and often create a buying cycle.
You'll learn how to increase new business (new logo) sales by employing the third generation of technology sales–selling outcomes. And exactly what type of outcome to sell. Using the third-generation approach, you'll create greater emotional connections, differentiate from the competition and win more business.
You'll also learn how to evolve Services and Support to focus on enabling true customer success, and how that's producing great references.
And Marketing will have a whole new way of attracting attention, creating interest and engaging prospects.
Most vendors have evolved past solution-selling and its approaches to marketing, sales, services and support. The Outcome Generation shows how to align the whole business around a common theme–enabling outcomes the customers regard as success. And why that allows vendors to thrive! Buy the book now and join the Outcome Generation.
.
---
.
The Beginners Guide to Customer Success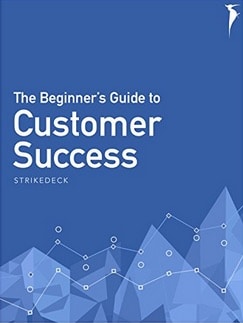 Strikedeck.  In Kindle edition
The Beginner's Guide to Customer Success is a comprehensive resource for any professional looking to transition into Customer Success, or get a refresher in all the essentials of the field.
This 200-page guide takes you through how CS evolved; how to get started in CS including hiring and interview tips; a complete glossary of all the relevant jargon; strategy tips for onboarding, journey maps, QBRs, and more; how to approach CS platforms and automation; tips for collaborating with other departments including Sales, Product, Engineering, and others; a business booklist; team-building exercises at the end of each chapter, and much more.
.
.
---
.
The SaaS Method For Customer Success & Account Managers: How to Grow Customers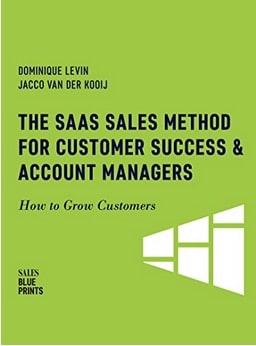 Dominique Levin, Jacco van der Kooij
. 
In Paperback and Kindle editions
Customer Success Managers and Account Managers are the newest addition to the sales team, whether they and their organizations know it or not. Building on the ideas in The SaaS Sales Method, which discusses how fundamental sales skills must be applied by every customer-facing employee, The SaaS Sales Method for Customer Success & Account Managers: How to Grow Customers goes deep on the fundamental skills of CSMs and Account Managers. It also goes beyond, to discussing in detail how CSMs and AMs must interact with other sales teams in order to truly maintain an consistent customer experience and maximize revenues from existing customers.
.
---
.
Customer Success: How Innovative Companies Are Reducing Churn and Growing Recurring Revenue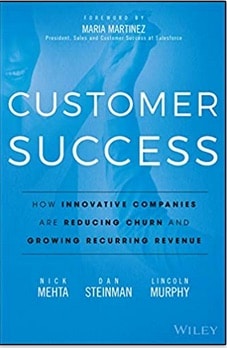 Nick Mehta, Dan Steinman and Lincoln Murphy.  John Wiley & Sons, February 2016  In Hardcover and Kindle editions
Your business success is now forever linked to the success of your customers Customer Success is the groundbreaking guide to the exciting new model of customer management. Business relationships are fundamentally changing. In the world B.C. (Before Cloud), companies could focus totally on sales and marketing because customers were often 'stuck' after purchasing. Therefore, all of the 'post-sale' experience was a cost center in most companies. In the world A.B. (After Benioff), with granular per-year, per-month or per-use pricing models, cloud deployments and many competitive options, customers now have the power. As such, B2B vendors must deliver success for their clients to achieve success for their own businesses.
Customer success teams are being created in companies to quarterback the customer lifecycle and drive adoption, renewals, up-sell and advocacy. The Customer Success philosophy is invading the boardroom and impacting the way CEOs think about their business. Today, Customer Success is the hottest B2B movement since the advent of the subscription business model, and this book is the one-of-a-kind guide that shows you how to make it work in your company.
From the initial planning stages through execution, you'll have expert guidance to help you:
Understand the context that led to the start of the Customer Success movement
Build a Customer Success strategy proven by the most competitive companies in the world
Implement an action plan for structuring the Customer Success organization, tiering your customers, and developing the right cross-functional playbooks
Customers want products that help them achieve their own business outcomes. By enabling your customers to realize value in your products, you're protecting recurring revenue and creating a customer for life. Customer Success shows you how to kick start your customer-centric revolution, and make it stick for the long term.
---
.
Farm Don't Hunt – The Definitive Guide to Customer Success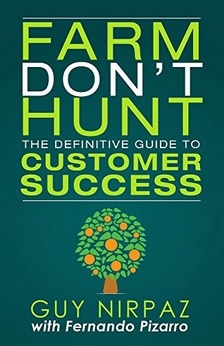 Guy Nirpaz, Fernando Pizarro
.  March 2016. 
In paperback and Kindle editions
Across entire verticals of the economy the new normal is the recurring revenue business. Charging customers on a monthly basis, firms with this model have to play by an entirely new set of rules, rules which generally favor the customer over the seller. But this new model also opens up fantastic opportunities to provide and extract more value from the relationship as well. To create that value business needs to move away from a hunting mindset to a farming mindset. That change is the new paradigm of Customer Success.
Many business leaders have heard of Customer Success but few understand what it really means to run their business from the Customer Success standpoint. Even fewer have the experience to build the Customer Success function and optimize its performance.
As a pioneer in the field of Customer Success, Guy Nirpaz is acknowledged as one of the earliest proponents of this business realignment
---
.
Chief Customer Officer 2.0: How to Build Your Customer-Driven Growth Engine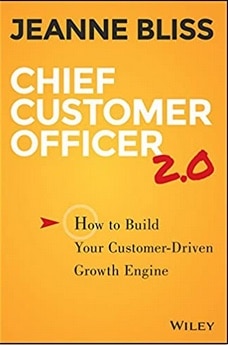 Jeanne Bliss.  John Wiley & Sons, May 2015.  In Hardcover, Paperback and Kindle editions.
A Customer Experience Roadmap to Transform Your Business and Culture
Chief Customer Officer 2.0 will give you a proven framework that has launched and advanced the customer experience transformation in businesses in every vertical around the world.  And it will take years off your learning curve.
Written by Jeanne Bliss, worldwide authority on customer experience, and preeminent thought leader on the role of the Customer Leadership Executive (such as Chief Customer Officer, Vice President of Customer Experience, etc.) this book follows the five-competency model she uses to coach the C-Suite and Chief Customer Officers.
1. Manage and Honor Customers as Assets
2. Align Around Experience
3. Build a Customer Listening Path
4. Proactive Experience Reliability and Innovation
5. One Company Accountability, Leadership & Decision Making
Chief Customer Officer 2.0 will get you into action quickly with a united leadership team, and will shift your business intent to earning the right to growth by improving customers' lives. Jeanne Bliss fearlessly shares her tools and leadership 'recipe cards' for leading and enabling your business transformation
To Purchase the Hardcover edition:  [ https://amzn.to/3dYtQ3l  ]
---
.
Customer Success Publications
Independent Customer Success Publications
Customer Success Technology Vendor Blogs
Customer Success Advisors Blogs