All across the high technology industry and well beyond it, a new and vital role is being established and developed. The job goes by many names: Customer Success Manager, Client Advocate, etc., but regardless of the label, it's about customer relationship retention and optimization. And the most effective way to keep your customers is to make them as successful as possible in using your technology product.
What is the definition of Customer Success Management?

The choice is becoming clear.  You either actively manage your customer relationships as strategic portfolio assets, or you effectively cede control over them and your company's future to chance and/or the competition.  Customer acquisition is only the very first step in what must be a long-term, scientifically engineered, and professionally directed strategy.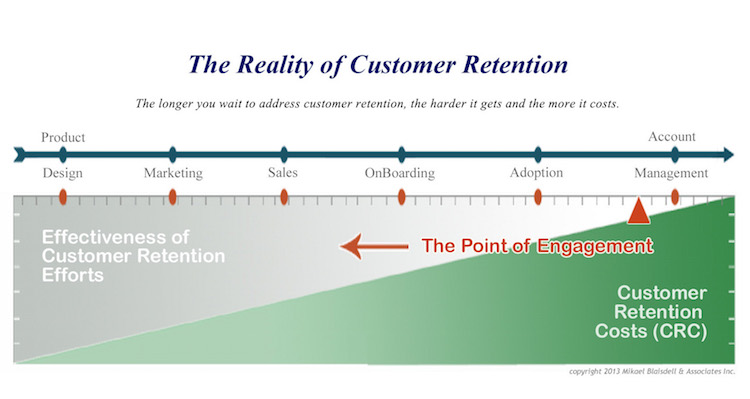 The emerging role of Customer Success Management is about a solution to the core issues of technology customer portfolio development, retention and expansion.  The long-range vision of Customer Success Management is an integration of technology, Marketing, Sales, Professional Services, Training and Support into a relationship product for the SaaS/Cloud era.  The day of the traditional perception of software as a stand-alone tool, with its historically hodgepodge tactical methods of packaging and distribution, has passed.  The ultimate strategic goal of the Customer Success role is sustainable corporate profitability and growth.  The method is to make your customers as profitable and productive as possible.
The Mission of a Customer Success Team
"We build more value faster for your company and ours — and we can prove it."  In a nutshell, this is what CSM teams promise their customers and their own companies.  The last aspect, of being able to prove your worth in both directions, is the most crucial.  While virtually all Customer Success Management initiatives start out as "churnfighters," reactive tactical teams charged with saving an at-risk customer relationship, you can't stop there.  The challenge is to gather and use the data from every interaction to move your team out of reactive mode and into far more effective proactive stances.
The operational role of Customer Success Management includes participation in technology product design to create the tools that your customers need.  It's about working with Marketing to find the right kinds of leads, the ones that Sales can bring into the company to become first-tier high-value assets.  Through on-boarding and training, the CSM group ensures that all customers are fully engaged and getting the value that they expect.  At every point, the team collects, analyzes and then uses data to make the customers' experience of the company a seamless, consistent whole.
From Customer Success Definition to Design
The above definition has substantial implications and effects for the new profession.  Effective, fully capable CSM groups are not built in a day. It's going to take at least a year, and probably two just to establish the foundation for the team.  Then the real work begins, to extend and fully develop into a core strategic unit of the company.

Ready to begin a Customer Success Group for your company?
If you're designing or building a new Customer Success team for your company, or looking to take an existing one to the next level, there are a number of resources which can lessen the time required and significantly improve your effectiveness.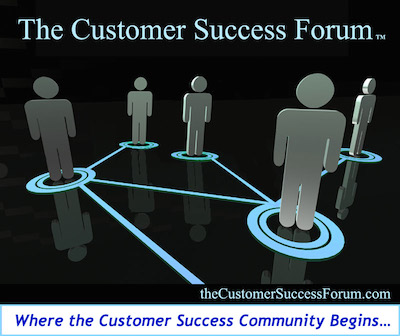 To participate in the ongoing conversation of the worldwide community of customer success professionals, join the over 26,000 members of The Customer Success Forum on LinkedIn:
http://thecustomersuccessforum.com
The Customer Success Association

Do you have questions about what a Customer Success Management program and team might mean for your company?  Do you have comments about the definition of Customer Success?  Let's talk.  Please fill out the form here to start.
And finally, to receive pertinent and timely news about what's going on in the Customer Success Community, become a member of the Customer Success Association — it's free, and we only do mailings out to the members list once or twice per month at most.  You may unsubscribe at any time if your preferences change.   Use this link, or the one at the bottom right side of the page, or click here:
https://www.customersuccessassociation.com/membership-levels/